Posts for: December, 2017
If your child begins complaining of tooth pain without an accompanying fever or facial swelling, it's likely not an emergency. Still, you should have us check it—and the sooner the better if the pain persists or keeps your child up at night. There are a number of possible causes, any of which if untreated could be detrimental to their dental health.
Before coming in, though, you can do a cursory check of your child's mouth to see if you notice any abnormalities. The most common cause for a toothache is tooth decay, which you might be able to see evidence of in the form of cavities or brown spots on the tooth's biting surfaces. If you notice swollen or reddened gums around a tooth, this could be a possible sign of a localized area of infection known as an abscess. You should also ask your child if they fell or were hit in the mouth and look for any signs of an injury.
If you don't see anything unusual, there may be another cause—stuck food like popcorn or candy lodged and exerting painful pressure on the gum tissue or tooth. You may be able to intervene in this case: gently floss around the affected tooth to try to dislodge any food particles. The pain may ease if you're able to remove any. Even so, if you see abnormalities in the mouth or the pain doesn't subside, you should definitely plan to come in for an examination.
In the meantime, you can help ease discomfort with a child-appropriate dose of ibuprofen or acetaminophen. An ice pack against the outside jaw may also help, but be careful not to apply ice directly to the skin. And under no circumstances rub aspirin or other painkiller directly on the gums—like ice, these products can burn the skin. If these efforts don't help you should try to see us the same day or first thing the next morning for advanced treatment.
The main thing is not to panic. Knowing what to look for and when to see us will help ensure your child's tooth pain will be cared for promptly.
If you would like more information on handling dental issues with your child, please contact us or schedule an appointment for a consultation. You can also learn more about this topic by reading the Dear Doctor magazine article "A Child's Toothache."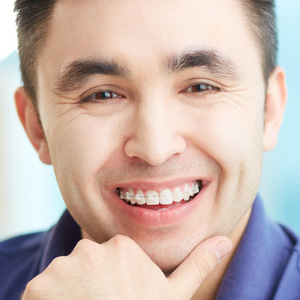 It's something you think about often—especially when you look in a mirror or at a photo of yourself. You wish something could have been done about it a long time ago. But now you think you're too old to correct your misaligned teeth—your "crooked" smile.
Actually, you can transform your smile through orthodontics, whatever your age. Millions of your peers have done just that—currently, an estimated one in five orthodontic patients is an adult.
If orthodontics isn't right for you it won't be because of age, but most likely the condition of your gums and underlying bone or your overall health. That first factor is extremely important: if you've lost a significant amount of bone due to periodontal (gum) disease, there may not be enough to support the force of moving the teeth during orthodontics.
Health conditions like severe heart-valve disease, uncontrolled diabetes or drugs to treat arthritis or osteoporosis can also make tooth movement difficult. And, if you have restricted saliva flow (dry mouth), wearing orthodontic devices could be uncomfortable and increase your risk of tooth decay.
If, however, your mouth and body are reasonably healthy (and you don't have a difficult bite problem to correct), there's no reason why you can't undergo orthodontic treatment. The only other thing that might hold you back is concern over your appearance during treatment. Many adults balk at the possible embarrassment of wearing metal braces "at their age."
If this is a concern, you may have an alternative: clear aligners. These are a series of computer-generated clear plastic trays that conform to the individual contours of your teeth. Each tray is slightly different—you wear one for a short period of time (usually two weeks) before moving on to the next tray to successively and gradually move your teeth. They're nearly invisible to others and, unlike fixed metal braces, you can take them out for a rare special occasion.
The only way you'll know whether correcting your misaligned teeth is a viable option is to undergo a full orthodontic evaluation. From there we can help you decide if and how you want to gain a straighter, more attractive smile.
If you would like more information on adult orthodontics, please contact us or schedule an appointment for a consultation. You can also learn more about this topic by reading the Dear Doctor magazine article "Orthodontics for the Older Adult."