Posts for: August, 2016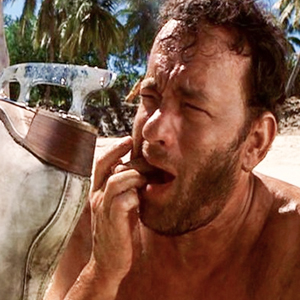 Did you see the move Cast Away starring Tom Hanks? If so, you probably remember the scene where Hanks, stranded on a remote island, knocks out his own abscessed tooth — with an ice skate, no less — to stop the pain. Recently, Dear Doctor TV interviewed Gary Archer, the dental technician who created that special effect and many others.
"They wanted to have an abscess above the tooth with all sorts of gunk and pus and stuff coming out of it," Archer explained. "I met with Tom and I took impressions [of his mouth] and we came up with this wonderful little piece. It just slipped over his own natural teeth." The actor could flick it out with his lower tooth when the time was right during the scene. It ended up looking so real that, as Archer said, "it was not for the easily squeamish!"
That's for sure. But neither is a real abscess, which is an infection that becomes sealed off beneath the gum line. An abscess may result from a trapped piece of food, uncontrolled periodontal (gum) disease, or even an infection deep inside a tooth that has spread to adjacent periodontal tissues. In any case, the condition can cause intense pain due to the pressure that builds up in the pus-filled sac. Prompt treatment is required to relieve the pain, keep the infection from spreading to other areas of the face (or even elsewhere in the body), and prevent tooth loss.
Treatment involves draining the abscess, which usually stops the pain immediately, and then controlling the infection and removing its cause. This may require antibiotics and any of several in-office dental procedures, including gum surgery, a root canal, or a tooth extraction. But if you do have a tooth that can't be saved, we promise we won't remove it with an ice skate!
The best way to prevent an abscess from forming in the first place is to practice conscientious oral hygiene. By brushing your teeth twice each day for two minutes, and flossing at least once a day, you will go a long way towards keeping harmful oral bacteria from thriving in your mouth.
If you have any questions about gum disease or abscesses, please contact us or schedule an appointment for a consultation. You can learn more by reading the Dear Doctor magazine articles "Periodontal (Gum) Abscesses" and "Confusing Tooth Pain."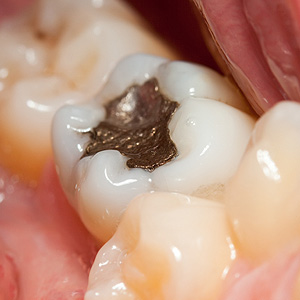 With all the new tooth-colored fillings for cavities, it's easy to overlook metal amalgam. While this mainstay of dental care for over a century might not be as attractive as composite resins or glass and resin ionomers, it still has the advantage of strength and durability.
Amalgam is a stable metal alloy usually made up of silver, tin, copper and mercury. The metals are proportioned and mixed precisely to guard against "free" mercury molecules, which could pose a health hazard. The mixture is pliable at first, but then sets hard once molded into the prepared area of the tooth.
Besides strength, amalgam's other advantages include low cost, high resistance to wear and biocompatibility (not toxic to the body or allergy-producing). At the same time, it can require more tooth structure removal to accommodate a filling and cause higher sensitivity to temperature for a while after installation. Its main disadvantage, however, is appearance — it's now considered unacceptable from an aesthetic point of view to use it in visible areas like the front teeth.
Because of this, materials resembling natural tooth color are coming into vogue, especially as their strength improves. Still, dental amalgam continues to play a useful role, especially in less visible back teeth with higher chewing forces.
One past concern about dental amalgam is the inclusion of mercury in the alloy. As mentioned before, mercury is hazardous in a "free" form when not knit microscopically with other metals; as such it can emit a vapor that could enter the bloodstream and damage the nervous system. But after several studies by various organizations, the American Dental Association has concluded amalgam's precise mixture prevents the mercury from taking this form: although some vapor is given off during chewing it's far too low in concentration to pose any danger.
Dental amalgam continues to be an effective choice for fillings. Whether it's the right choice for you will depend on the type and location of a tooth to be filled, and whether durability is a higher concern than appearance. If we do recommend an amalgam filling, you can be assured it's a safe and lasting choice.
If you would like more information on your choices for dental fillings, please contact us or schedule an appointment for a consultation. You can also learn more about this topic by reading the Dear Doctor magazine article "Silver Fillings — Safe or Unsafe?"